Fyrish String Quartet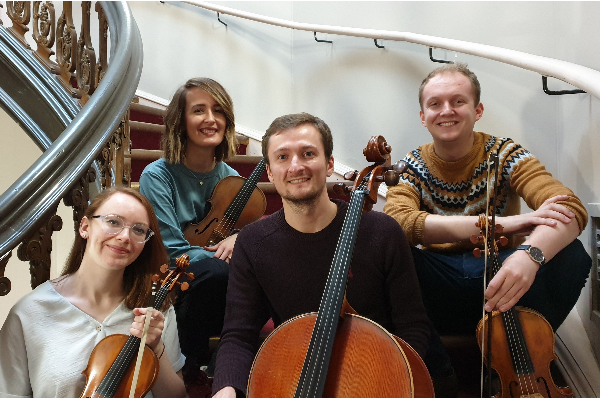 The ensemble brought a wonderful energy and spontaneity to their interpretation of this music, as well as an impressive technical assurance...
Their joyous performance could not help but bubble over and give the audience enormous pleasure.
Quartet - String Quartet
Instrumentation
Joe Hodson - Violin
Emma Donald - Violin
Sarah Leonard - Viola
Tim Cais - Cello
Repertoire
Beethoven - String quartet No. 12 in Eb major, Op. 127
Elgar - String Quartet in E minor Op. 83
Grieg - String Quartet No. 1 in G minor Op. 27
Haydn - String Quartet in D minor Op. 76: No. 2 'Fifths
Haydn - String Quartet in Bb major Op. 76: No. 4 'Sunrise'
James MacMillan - Memento
Mozart - String Quartet No. 19 'Dissonance' K 465
Mendelssohn - String Quartet No. 6 in F minor Op. 80
Nielsen - String Quartet No. 1 in G minor, 13
Puccini - "Crisantemi"
Puccini - Three Minuets
Webern - Langsamer Satz
Danish String Quartet - Folk songs
Scottish Folk arrangements
Other repertoire can be discussed.
Biography
Established in late 2017, the Fyrish String Quartet is a young, vibrant ensemble. Each member excelled during their studies and collectively they have received tuition from some of the UK's leading musicians. The quartet has performed across Scotland, presenting varied programmes often combining classical and folk music.
Contact