Mary Reid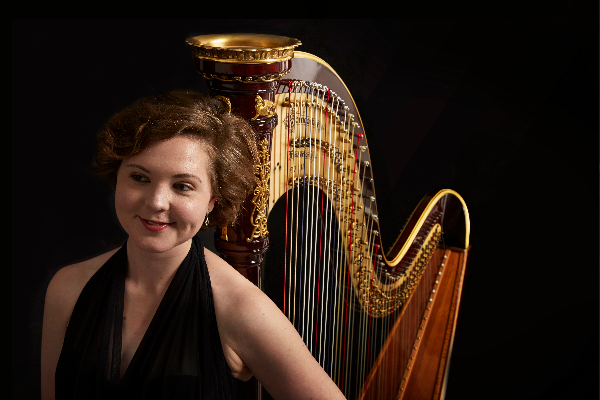 lovely harp playing from Reid,....I would have liked to have heard more of Reid's harp playing.
Reid, who is Scottish, delivers with great feeling her version for solo harp, providing the lyrical centre of this charming 30-minute concert that brings OperaUpClose to our computer screens..... Reid also accompanies with great precision.
Solo - String
Instrumentation
Repertoire
Sample programme: Dance and Romance
Partita no 1 in B flat major BWV 825: Praeludium, Allemande, Corrente, Sarabande, Menuet 1 and 2, Giga - J S Bach
Los Árboles de las Mariposas (The Butterfly Trees), Un Vals para Soñar (A Waltz for Dreaming)
El Pájaro Campana (The Bell Bird) - Alfredo Rolando Ortiz
Baroque Flamenco - Deborah Henson-Conant
Étude de Concert Op 193 - Félix Godefroid
* INTERVAL *
A Red Red Rose - trad Scottish
Oriental Dance, Toccata - Aram Khachaturian
Watching the Wheat - trad Welsh arr John Thomas
Impromptu Op 86 - Gabriel Fauré
Biography
Mary gained both her MA in Performance with Distinction and her Bachelor of Music (1st Class Hons) from the Royal Academy of Music, studying with her harp professor of ten years Professor Emerita Skaila Kanga. Previously Mary studied in Los Angeles,Chicago and Edinburgh.
With a varied musical appetite, Mary performs as a soloist, chamber musician, orchestral harpist, and in the community. She has a passion for giving recitals that showcase the harp's full potential, especially in rural communities, and previous performances include Isle of Arran Music, Classic Music Live! Falkirk, Ripon Cathedral, the Bowes Museum, Music at Junction 50, Holkham Hall in Norfolk, Hove Music Society, and the Brantwood Young Artist Series as well as at London's Wigmore Hall. She has performed on recordings with Trevor Pinnock, the Gabrieli Consort and on Paul Patterson's CD of harp works. Mary has been concerto soloist with the Kingston Chamber Players, the Dacorum Symphony Orchestra, the Thames Consort, St Cecilia Orchestra in Yorkshire and the Vacation Chamber Orchestra playing works by Handel, Debussy, Mozart and Rodrigo.
Freelance orchestral work has recently included performances with the RSNO, Opera North, Northern Ballet, the Royal Opera House, ENO, the Hallé, London Mozart Players, CBSO, and at the Edinburgh International Festival and BBC Proms. With a passion for chamber music, Mary has enjoyed working with smaller groups such as OperaUpClose, the London Sinfonietta, King's Chamber Orchestra and the Riot Ensemble on several occasions. She currently performs regularly across the UK with Scottish folk singer Ainsley Hammill, as well as collaborating in duos with soprano Camilla Jeppeson and violinist Tansy Garrod in London. In other chamber groups Mary has performed the world premieres of 'Black Roses' by Martin Gaughan (mandolin/harp) and 'Panoply' by Richard Bissell (harp duet/flute). She performed alongside Christopher Hogwood in a Gresham College lecture-recital, and featured several times in RAM's Tuesday Chamber Music Series.
Mary also loves bringing joy to schools, churches and hospital settings. Mary completed four years on the Live Music Now scheme and now leads workshops and mentors younger musicians in SEN settings, as well as giving participatory performances for adults living with dementia. Mary regularly performs with the All Soul's Orchestra and continues taking the harp to settings where participants might not otherwise hear live harp music.
Contact