Murray McLachlan and family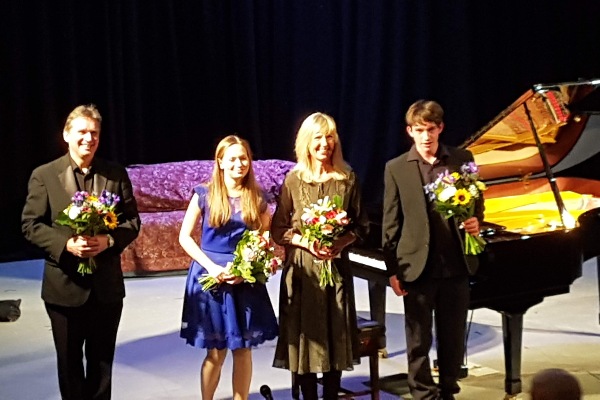 All the performances given by the McLachlan Family was absolutely amazing – one of the very best ever. They got what promises to be a fantastic new season off to a scintillating start.
Flexible Ensemble (variable number of performers)
Instrumentation
Murray, Kathryn, Callum, Matthew, and Rose McLachlan - Piano
Repertoire
Bach Toccata in E minor
Liszt Petrarch Sonnet no. 123 (Italy) Liszt
Chopin Etude in C minor op 10 no. 12 'Revolutionary'
(Rose)
Scriabin Sonata no 7
Sonata in G minor op 22 Schumann
(Matthew)
Interval
Sonata in E flat op 7 (1st movement) Beethoven
'Aye Waukin' o' (Burns song) FG Scott, transcribed Ronald Stevenson
'Waldesrauchen' Liszt
Rigoletto Paraphrase Liszt
(Callum)
Variations on a theme of Paganini, book 1 Brahms
(Murray)
Sonata for Piano Duet Poulenc
(Kathryn and Murray)
Biography
Murray McLachlan has been touring Scottish Music Clubs and Societies for over 35 years. He has made over 40 commercial recordings which have consistently received outstanding reviews, including 'key recording' and 'rosette' status in the Penguin Guide to CDs. He has performed on all five continents and also serves regularly on juries of international piano competitions.
Kathryn Page has given over 20 recitals at the South Bank and Wigmore Hall, both as soloist and chamber music pianist. She has toured Norway, Italy, Ireland and Australia where she gave seven recitals at the Sydney Festival and broadcast for ABC. At home Kathryn has performed at many of the leading music festivals and has given numerous live broadcasts for BBC radio 3.
Callum McLachlan was born in 1999. After attending Chetham's school for seven years and winning all the major prizes there, he started studying in Salzburg at the Mozarteum in 2018 and is currently doing a double Masters in Cologne and Salzburg. He has won numerous international awards and scholarships and is extremely busy as a concerto and recital soloist as well as in chamber music.
Matthew McLachlan was born in 2000 and was awarded the FTCL in 2016. He is currently studying as a Masters Student with Dina Parakhina on a full scholarship at the Royal College of Music in London. In 2023 he won first prize in the Bromsgrove International Young Artists competition. In 2021 he was awarded the Chappell Gold Medal at the Royal College of Music, the institutions top award for keyboard players. Matthew has performed concertos by Beethoven, Mozart and Tchaikovsky as well as many solo recitals.
Rose McLachlan was born in 2002. She has given many solo recital and concerto performances, including Shostakovich's 2nd concerto with the BBC Concert Orchestra on Radio 3. She has won many awards,including the concerto competition at PianoFest in Texas in 2022 when she performed Chopin's E minor Concerto with the Fort Worth Symphony Orchestra. . She was overall winner of the Scottish International Piano Competition Youth Prize in 2017 and has won the junior Beethoven Piano Society of Europe competiton as well as EPTA Croatia's International Youth competition. Currently Rose is on a full scholarship at Masters level at the Guildhall School of Music and Drama in London, studying with Martin Roscoe, Ronan O'Hora and Charles Owen
Contact