New Focus: The Classical Connection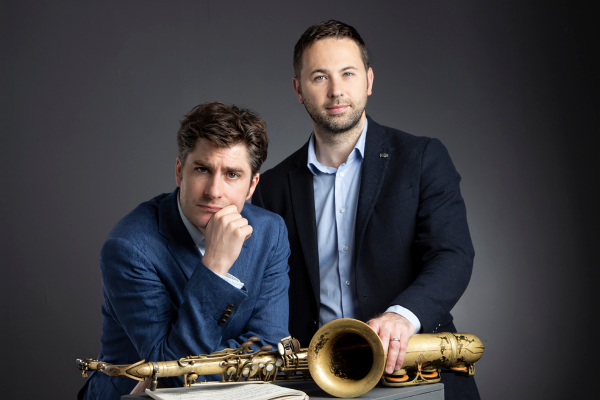 The audience went home royally entertained and probably a little better educated as well.
Combining jazz and classical idioms is a tricky business, but this succeeds splendidly.
Duo - Instrumental
Instrumentation
Euan Stevenson - Piano
Konrad Wiszniewski - Saxophones
Repertoire
New Focus: The Classical Connection highlights the many traits shared by classical composers and jazz musicians. Audiences hear why Franz Liszt and Erroll Garner both loved the key of D flat major and get an impression of Mozart sitting in on the Duke Ellington Orchestra's theme tune, Take the A Train. George Gershwin's love of Ravel and Debussy and his major contribution to the jazz canon and Erik Satie's influence on Miles Davis' classic Kind of Blue album are also explored. And in addition to original pieces from their two New Focus albums, a typical concert might conclude with I Wish I Knew How It Would Feel to Be Free (Barry Norman's film night tune) played with real soul.
Biography
Pianist Euan Stevenson and saxophonist Konrad Wiszniewski are two of Scotland's leading musicians. Their New Focus partnership takes its name from a project commissioned to celebrate the fiftieth anniversary of saxophone giant Stan Getz's classic 1961 album, Focus, and has expanded to include The Classical Connection. Having been awarded five stars by The Herald's Keith Bruce in 2019, the Classical Connection has developed into a brilliantly entertaining, fascinatingly informative and above all, musically outstanding presentation.
Euan Stevenson is an award-winning pianist, composer and arranger working in jazz, classical and pop music. He has performed in concerts and masterclasses throughout the UK and the USA and his music has been broadcast widely across BBC Radio and Jazz FM. His film and TV work includes music for the BBC's Horizon documentary series and the 2018 feature film Voyageuse and his arranging experience includes orchestrating the Ukrainian national anthem for renowned virtuoso Pinchas Zukerman with the English Chamber Orchestra.
A former student of London-based jazz pianist Liam Noble, Euan has worked with many of the top players on the UK jazz scene including the legendary guitarist Jim Mullen, fellow pianist David Newton (in a 'four hands, two pianos' partnership), and trumpeter Enrico Tomasso. His superb accompanying skills have enhanced the voices of numerous singers, notably Tina May, Nikki King, Anita Wardell and most recently, the popular award-winner Georgia Cecile.
Konrad Wiszniewski was born in Glasgow in 1980 and took up tenor saxophone at the age of 13. He toured and recorded with the European Youth Jazz Orchestra before releasing his first CD, Konrad Wiszniewski, in 2005. Since 2001 Konrad has worked extensively with the Scottish National Jazz Orchestra as one of the ensemble's star soloists. He has also featured in the spiritual jazz group Mama Terra, guested with swing ensemble Rose Room and performed in duos with Scottish piano legend Brian Kellock. He has twice won the Best Instrumentalist title in the Scottish Jazz Awards.
Contact