Palisander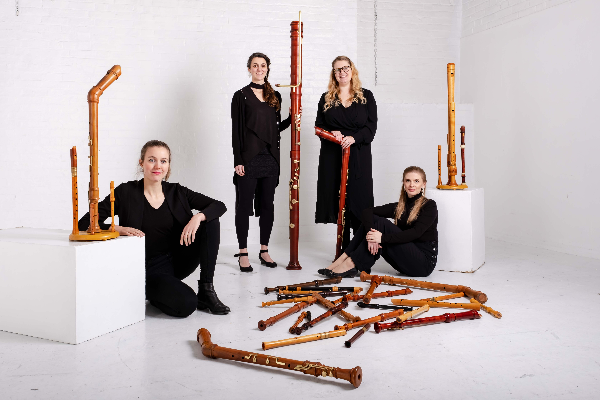 Palisander is one of the most engaging and characterful groups of young performers I have ever had the pleasure of working with. As soon as they start to play, the audience is drawn in and engrossed in the astonishing interaction and dialogue Palisander display
Palisander - making recorders phenomenally interesting and exciting!
Quartet - Instrumental
Instrumentation
Tabea Debus - Recorders
Lydia Gosnell - Recorders
Miriam Monaghan - Recorders
Caoimhe de Paor - Recorders
Repertoire
In "Beware the Spider," "Double Double, Toil & Trouble," "You Make Me Feel Like Dancing" and "Recorder Revolution!" programmes, the group contextualizes music with informative spoken introductions, historical accounts, spoken word and choreography. The repertoire is varied, and whilst primarily historic, includes traditional music arrangements written especially for the group and contemporary commissions.
Palisander was thrilled to be the partner ensemble of the National Centre for Early Music's Young Composer Award 2021, in collaboration with BBC Radio 3.
Biography
Palisander prides itself on presenting imaginative, historical programmes with a wide range of repertoire, performing largely from memory, on recorders up to 6 feet tall. The group has quickly established itself as a vibrant young ensemble. Devising their own choreography, as well as writing new compositions & unique arrangements for the ensemble, the group's members are keen ambassadors for the recorder's versatility. This is brought to life in the exciting theatrical concerts, for which Palisander is known.
Palisander was selected by the Tunnell Trust to give a concert tour of Scotland in 2020; the group had a wonderful time performing in several places, including the Isle of Skye & Isle of Eigg. The group also performed at St Magnus Festival, Orkney in 2022. Palisander is delighted to be selected for the prestigious Emerging European Ensembles Scheme, providing the group with residencies & performance opportunities across Europe. Winners of London International Exhibition of Early Music's inaugural chamber music competition 2018, Palisander competed as finalists in the prestigious Royal Over-Seas League Mixed Ensembles' Competition 2019 & was awarded a Golden Medal in the Manhattan International Music Competition 2019. Palisander has performed at Newbury Spring Festival, Cheltenham Music Festival & London Festival of Baroque Music, as well as London Fashion Week. In 2018, Palisander was chosen for Making Music UK's Selected Artists guide. The quartet's international performances include Ireland, France, Italy, Greece, Japan, Russia & the Czech Republic. Palisander has featured on BBC Radio 3 & France Musique.
Palisander's debut album, Beware the Spider! released in 2017, received a 4-star review from BBC Music Magazine & was voted First Place in the Magazine's First Listen Podcast. Robert Huggil said 'This charming disc not only shows off the ensemble's skills admirably but provides a programme which intrigues'. Classic FM featured a live performance film of Palisander, which has received over 5.4 million views!
Described as 'Early Music's very own Spice Girls', Palisander enjoys giving regular family concerts & educational workshops, including working for charity, Live Music Now. The group collaborated with puppet theatre company Rust & Stardust, to develop a unique family show. Palisander has been awarded another ACE grant to tour educational project "Recorder Revolution!" bringing inspiring, interactive performances to schools & music venues
Contact