Quattro MacJazz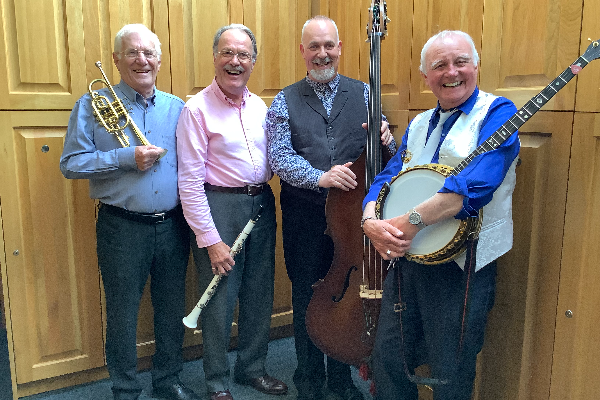 The best in their field
Jazz
Instrumentation
Alastair McDonald - Banjo/Vocal
Hamish McGregor - Clarinet/Vocal
Lennie Herd - Trumpet
Roy Percy - Double Bass
Repertoire
All of the standard Dixieland repertoire plus uniquely arranged features such as Alastair's special treatment of gospel favourites and Hamish's outstandingly popular version of Stranger on the Shore." The ensemble have recorded five CDs for the Corban label (samples available on request) and have appeared in concerts and at jazz festivals all over Scotland.
YouTube has some performances which can be accessed by searching for Quattro MacJazz.
Also SPOTIFY lists at least 4 of our CDs.
Biography
The quartet, an original idea by the legendary Forrie Cairns of Clyde Valley Stompers fame, is made up of clarinet, trumpet, banjo and double bass.
The members, following Forrie's retirement, are:
Alastair McDonald (banjo/vocal): Alastair started out as a founder member of George Penman's Jazzmen. His solo career blossomed with radio, TV, theatre and concert performances, reflected in his vast array of recordings for the Corban label.
In this ensemble Alastair returns to his roots of Dixie jazz and hot gospel.
Hamish McGregor has extensive playing experience including tours of the Far East and USA. He founded and led the famous Fat Sams Band and most recently has featured in a touring show dedicated to the memory of the legendary Acker Bilk.
Lennie Herd (trumpet):Also a founder member of George Penman's band, Lennie
has played in a number of Scottish bands, including the Scottish Jazz All Stars. Known for his hot trumpet lead, his playing experience includes spells in France and the US.
Roy Percy (double bass): Roy is Scotland's in-demand bass player. He is first choice for a number of top ensembles and instrumental stars. His unusual rhythmic techniques give the ensemble an unusually full rhythm section comprising only two players.
Contact