The Mermaid Trio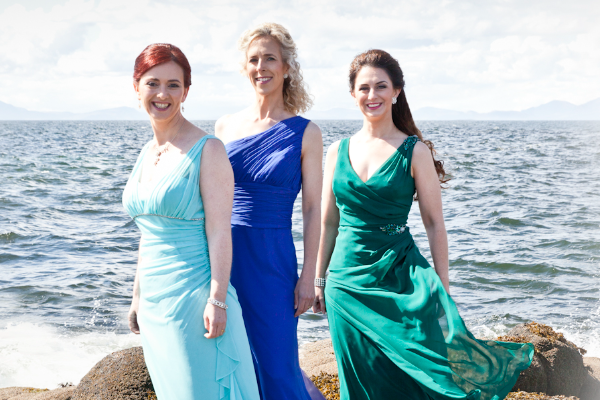 The Mermaid Trio delighted our audience with a varied programme. The well-known 'Shepherd on the Rock' was an obvious highlight, but even the less familiar pieces were introduced and performed with such enthusiasm and musicianship that the audience was charmed from start to finish. One of the highlights of our concert season.
Trio - Vocal & Instrumental
Instrumentation
Clare Haslin - Piano
Jennifer Brown - Clarinet
Elena Xanthoudakis - Soprano
Repertoire
The Mermaid Trio brings concert hall favorites such as Schubert's 'Shepherd on the Rock,' Spohr's 6 German Songs Op103, and Mozart's 'Parto, ma tuo ben mio' as well as the delightful gems: excerpts from 'Frauenliebe und–Leben' and Auf Fluegeln des gesanges by Franz Lachner. With programmes ranging from works of an operatic nature by Spohr, Bellini & Donizetti, to chamber works evoking the alpine landscape by Schubert and Meyerbeer, we will create an evening of evocative atmospheres, seduction, love & longing, you will remember.
Repertoire Includes:
Schubert: Shepherd on the Rock
Lindtpaintner: Shepherd and the Mermaid
Meyerbeer: Hirtenlied
Mozart: Parto, Parto!
Bellini: Ah! non credea
Biography
Claire Haslin - Piano
Claire Haslin studied at the RSAMD with Jean Hutchison, where she won prizes for Solo and Chamber music and represented the Academy in recital tours of Iceland and Russia. She completed the Advanced Solo Studies course at the Guildhall studying with Paul Roberts, representing the college in the Paxos Chamber Music Festival, and winning the Sir Henry Richardson Award for piano accompaniment.
Claire is active as an accompanist throughout Britain and Europe, at venues including the Purcell Room and the Edinburgh and Montalcino Festivals, and performs regularly as a member of Trio Ecossaise and the Kilnaish Duo, as well as accompanying baritone Phil Gault. She is a Crear Scholar, was a staff repetiteur for Scottish Opera, and holds accompaniment and teaching posts at the Royal Conservatoire of Scotland, Glasgow University, and the Music School of Douglas Academy, as well as accompanying for NYCOS.
Jennifer Brown - Clarinet
Jennifer returned to Scotland in 2006, following studies at the Royal Northern College of Music in Manchester and Indiana University and four years as Principal clarinetist with the Orchestra of the Algarve. She has played with UK orchestras including the CBSO and RSNO, has broadcast on BBC Radio 3 and performed in the Aldeburgh Festival, the Algarve International Music Festival, and at St Martin-in-the-Fields, London. Jennifer has given recitals with Trio Ecossaise for twenty years, and also enjoys working in music education and community music projects.
Elena Xanthoudakis - Soprano
Australian Soprano, Elena Xanthoudakis has lived in Scotland for over a decade, returning to her maternal family roots in Glasgow & Edinburgh. Elena has performed globally for prestigious operatic companies including: ENO, Royal Opera House-Covent Garden, Glyndebourne, Scottish Opera, Melbourne Opera, Maggio Musicale, Opera North, Opera de Quebec, National du Rhin, Greek National Opera, the BBC Proms & with many orchestras, including the Scottish Chamber Orchestra, RSNO, OAE & the Accademia di Santa Cecilia.
After studying in Melbourne & Florence, Elena completed her Master of Music at the Guildhall School of Music and Drama, London, and has won multiple singing competitions including the Maria Callas International Grand Prix (Oratorio – Lied), and the Salzburg International Mozart Competition. Her Chamber CD, The Captive Nightingale, was featured on BBC Radio 3 and available on Signum records.
Contact