Women in Chamber Music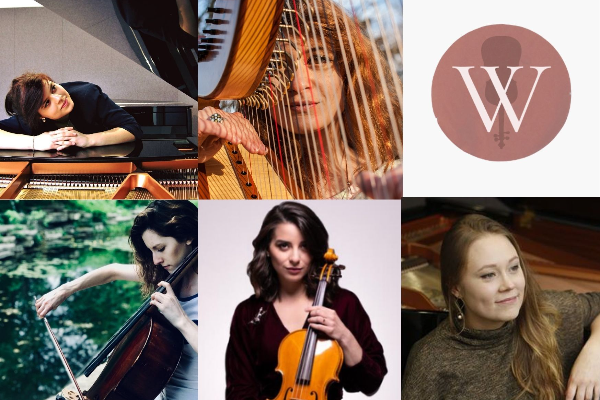 'We were absolutely thrilled by WICM's wonderful afternoon performance for our guests and our Patron, HRH The Princess Royal, at our recent summer "Gathering" in Glasgow. Their exciting, varied and thoroughly engaging programme, encompassing the works of Gershwin, Piazzolla, Brahms, Williams, Britten, Schubert, Debussy and more, was an absolute delight.'
'The professionalism and care they took before, during and after the event was hugely appreciated, both by ourselves and by the venue staff, and their very evident talent, enthusiasm and sheer joy for the marvellous music they had selected and arranged shone brightly throughout their performance.' 'Their playing added considerably to the pleasant and relaxed atmosphere of the event.'
Flexible Ensemble (variable number of performers)
Instrumentation
Mianoora Kosonen - piano
Arianna Ranieri - viola
Sam MacAdam - harp, clarsach, violin
Edyta Mydlowska - piano
Sarah Nail - cello
Repertoire
Women in Chamber Music performs a wide range of repertoire with unique instrument combinations within the Core Team, including harp/clarsach, four-handed piano, cello, and viola. Within the Core Team, the players collaborate with each other, featuring duos and trios, and full chamber ensemble in every performance, with adaptations of popular works by the team. For larger events, WICM invites other female, professional musicians to collaborate and have a performance platform. Programmes are varied, thoughtfully created, and are made suitable for the relevant occasions. We often feature lesser known works, women composers, original compositions, along with popular, celebrated repertoire.
Biography
Women in Chamber Music is a flexible, all-female, classical music ensemble based in Glasgow, Scotland. All members are young, professional musicians and recent music school graduates who have studied in world-class institutions across the UK, US and Europe. As an ensemble, we use our creative instrumentation and interests outside of classical music, to provide extraordinary and unique performances, that often includes, jazz, traditional Celtic, original compositions, and improvisations on popular works.
Our Core Team is at the heart of every performance, consisting of two pianists (often performing as four-hand piano), harp/clarsach, cello and viola. We write our own arrangements and transcriptions of pieces to suit our distinctive instrumentation.
Contact